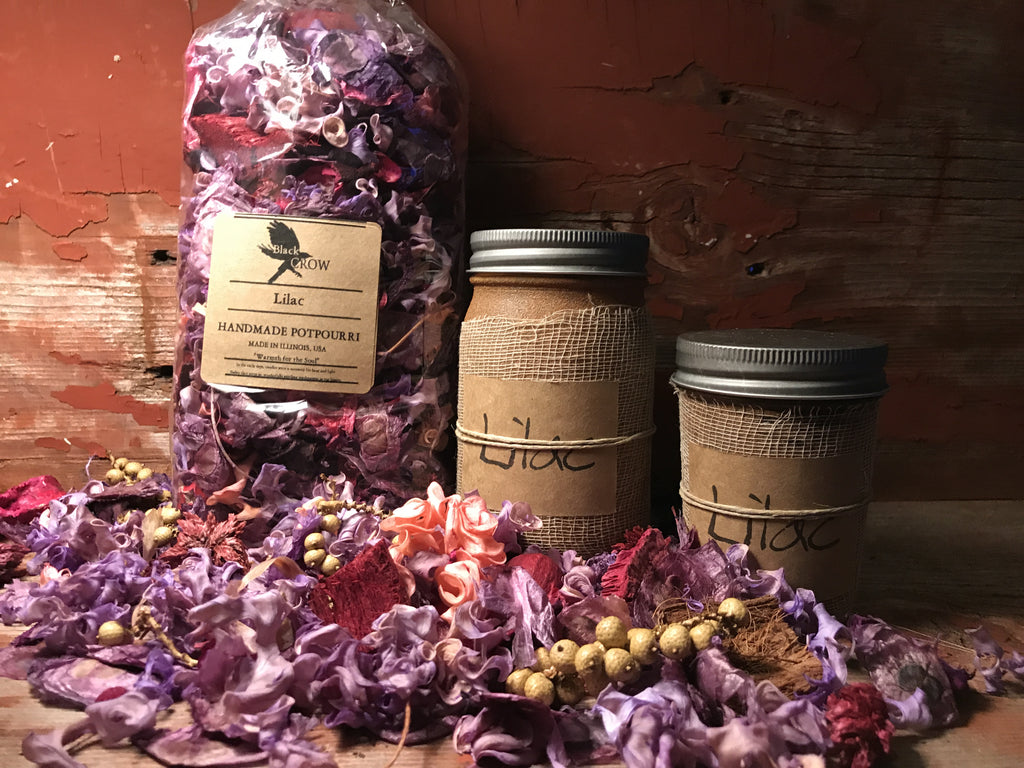 Black Crow Candle Company
Lilac Potpourri/3336
---
Fresh blooming lilac bush
Approx 4 cups
| | |
| --- | --- |
| Scent Name | Description |
| 1800 House | Fresh apple and mango |
| 1821 | Sweet caramel and pralines |
| Apple Jack & Peel | Fresh apple, cinnamon and clove |
| Believe | Vanilla, cinnamon, caramelized sugar & other scents of the season |
| Blessings | Apple slices with warm caramel |
| Blueberry Cobbler | Blueberries with vanilla and sweet cream |
| Brown Sugar | Brown sugar with a hint of maple |
| Butter Churn | Rich buttercream, cinnamon, and a tad of spice |
| Buttercream Vanilla | Creamy vanilla cupcake |
| Candy Cane | Old fashioned peppermint candy |
| Candy Corn | Sweet buttery candy with a hint of vanilla |
| Caramel Apple | Juicy red apples dipped in sweet caramel |
| Cedar Lodge | Orange, lemon, cedar, rose, jasmine and patchouli |
| Christmas Thyme | Balsam scent that is amazing. #1 Christmas scent |
| Christmas Tradition | Fresh berries, pine and cloves |
| Christmas Tree | Fresh pine and balsam |
| Cinnamon Apple | Red ripe apples sprinkled with cinnamon |
| Cinnamon Stix | Fresh ground cinnamon |
| Clove | Aroma of fresh cloves |
| County Market | Butter, caramel, cream, pumpkin and cloves |
| Country Clothesline | Fresh clean floral scent |
| Country Cupboard | Butter, butterscotch, caramel and cream |
| Country Pine | It can smell like Christmas Thyme all year long |
| Cranberry Nut Bread | Spicy cranberry with a touch of cinnamon |
| Early Goods | Homemade cinnamon strudel |
| Early Spice Cake | Pumpkin, buttercream and cloves |
| Fall Harvest | Apples, butter, brown sugar and spices |
| Farmers Market | Sweet aroma of fresh pumpkin, cinnamon and vanilla |
| Farmhouse | Cinnamon, cloves and a hint of musk |
| Gathering Room | Creamy vanilla pudding mixed with sweet caramel |
| Grandma's Kitchen | Creamy vanilla with a touch of cinnamon |
| Granny's Tea Cakes | Aroma of sweet buttery cookies baking in granny's oven |
| Grey | Masculine, sexy & breathtaking |
| Harvest Moon | The aroma of creamy pumpkin pie filling with rich eagle brand milk. |
| Hazelnut Coffee | Coffee beans mixed with vanilla and hazelnuts |
| Hillbilly Homebrew | Spicy hot mulled cider |
| Hot Apple Pie | Hot apple pie, fresh out of the oven |
| Java Cream | Sweet cold foam cream paired with rich java  |
| Keeping Room | Apples, yams, marshmallows with cinnamon & cloves |
| Lavender | Fresh blooming lavender flowers |
| Lavender Vanilla | The aroma of lavender flowers mixed with sweet vanilla |
| Lemon Grass | Sweet lemon candy |
| Lilac | Fresh blooming lilac bush |
| Log Cabin | Mix of pine and spices |
| Maple Butter | Maple mixed with creamy butter |
| Mulberry Spice | Sweet aroma of mulberries and spices |
| Mulled Cider | Warm cider with cloves and cinnamon |
| Olde Country | Mix of cinnamon and fresh cloves |
| Olde Shed | Lilac, rose, jasmine and geranium with a hint of musk |
| Orange Clove | Fresh oranges topped with cloves |
| Pantry Goods | Sugary vanilla wafers |
| Pearamel | Baked pears covered in caramel sauce |
| Pink | Soft pink petals mixed with vanilla |
| Potting Shed | Mixture of fresh cut flowers |
| Prairie Butter | Sweet aroma of homemade apple butter |
| Primitive Blend | Sweet blend of baking spices |
| Primitive Meadows | The aroma of Grandma's garden |
| Pumpkin Patch | Sweet aroma of freshly scooped pumpkin, cinnamon and vanilla |
| Pumpkin Seeds | Pumpkin cheesecake with whipped topping |
| Salted Caramel | Sweet mix of cream, butter and vanilla |
| Santa Snacks | Sweet buttery cookie |
| Simple Keepings | The aroma of creamy marshmallows mixed with sweet vanilla |
| Simpler Thyme | Rich nutmeg and cream |
| Snow Days | Coconut,lemon & sweet vanilla |
| Southern Welcome | Pineapple, oranges and apple sprinkled with cinnamon |
| Spiced Clove | Apple dumplings sprinkled with nutmeg, cloves & cinnamon |
| Spring Thyme | The aroma of fresh lemons mixed with sweet vanilla and coconut |
| Sugar Cookie | Sweet sugary aroma of fresh baked cookies |
| Summer Kitchen | Homemade raisin bread |
| Sweet Cream | Sweet Cream mixed with vanilla beans and sprinkled with cinnamon |
| Weathered Flannel | Fresh cotton, amber, cashmere, musk & a hint of patchouli |
| White Christmas | Aroma of oranges, apples, pineapple with a hint of cinnamon |
| Yuletide Greetings | Toasted marshmallow and sweet creamy vanilla |
|  Zucchini Bread | Fresh baked Zucchini bread straight from the oven |
$100.00 Minimum order

To ensure the correct shipping amount is charged,we weigh each order and add the exact shipping cost to your invoice. 
We do not charge a handling fee - you only pay the actual cost of shipping. 
Once we receive your registration, an email will be sent to you
confirming your account has been set up for wholesale purchasing.
* This generally takes less than 24 hours.
PLEASE NOTE: Orders normally take 7-10 days to ship
---
Share this Product
---
More from this collection